Park City is a premier year-round vacation destination. It offers visitors and residents unbeatable access to the ski slopes in winter, swimming and mountain biking in the summer, and beautiful hikes in the fall and spring. As the leaves begin to turn, get a good look at the changing colors of the Wasatch Range with these hikes near Park City.

McLeod Creek Trail
McLeod Creek is a six-mile, "out-and-back" trail, with a decent amount of foot traffic. It's a moderate hike, making it accessible for hikers of most ages and abilities (as well as dogs). When wildflowers are in bloom, you'll see some of the most beautiful displays in Utah. During the fall, wander along the crushed gravel path and take in scenic views of the aspen, dogwood, cottonwood, and alder leaves. The occasional footbridges on this trail will transport you into an autumnal storybook scene.
Clayton Peak
For something as lively as it is beautiful, check out Clayton Peak. This 5.3-mile trek is an out-and-back but tends to attract more hikers. This trail is especially popular through summer and into fall— primarily due to its scenic views. There are several lakes along this trail, with the Bloods Lake view being a fan favorite. You can bring your pup, but make sure they're on a leash. And because this hike is mainly uphill, be sure you're confident in your hiking abilities and comfortable in your boots before attempting it.
Silver Lake Trail
Silver Lake Trail is a moderate-difficulty hike at Deer Valley Resort, best trekked between May through October. The trail begins with a ride up the Silver Lake chairlift, which offers spectacular views of the fall vegetation below. You'll proceed up the mountain, passing through the golden aspen trees and the cross-country ski slopes, eventually reaching a panoramic view of Park City. At the top of Bald Mountain, you'll overlook Heber Valley, as well as the area's cliffs. The trail has a total elevation gain of 1,433 feet and totals 4.7 miles. This trail is perfect if you want to see fall foliage from multiple angles and heights along your journey.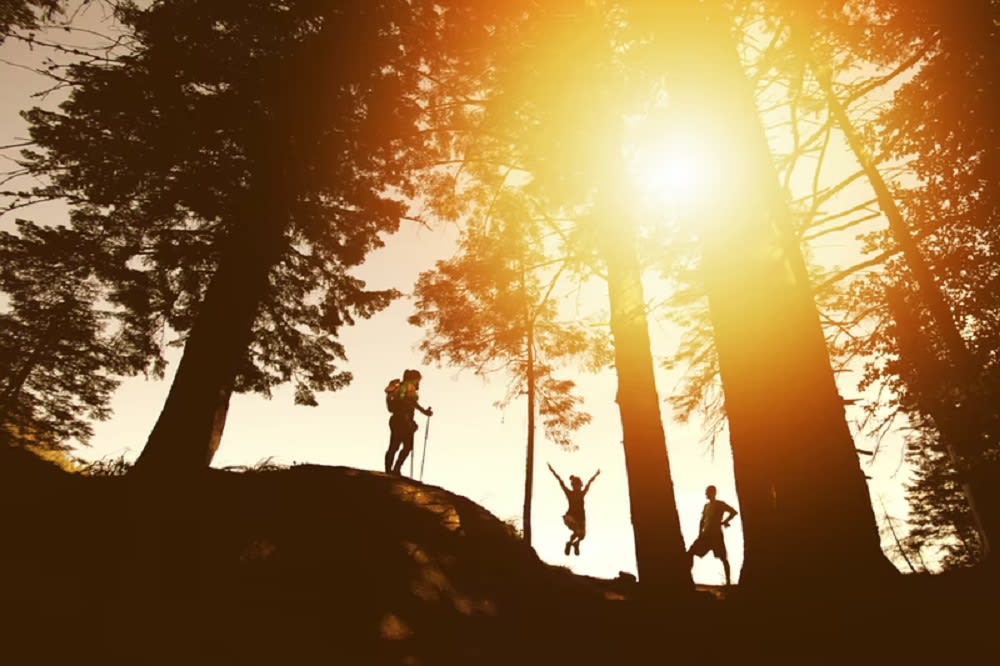 Crescent Lift Trails
Riding up Park City Mountain's Crescent chairlift will give you access to a range of trails, all of which have excellent views of autumnal greenery. Leave the lift and take the Three Candles trail, which will ultimately bring you to Shadow Lake. Shadow Lake itself is a 1.8-mile trail and is popular thanks to its ideal swimming conditions. Although the water is brisk in the fall, you can stay dry and still appreciate the reflection of the changing leaves and the overall beauty of the scenery.

If you take the Crescent Lift, you'll also want to find the Pioneer Ridge trail, which will eventually turn into Dead Tree. At the end of the trail, you'll find panoramic views of Central Wasatch, including Mount Raymond, Gobbler's Knob, and the backside of Big Cottonwood Canyon—all prime foliage-viewing locations.
Bloods Lake
If you want a trail that's popular with the locals, check out Bloods Lake. A few years back, Park City purchased untouched backcountry land, and now, instead of braving unmarked 10,000' elevations to reach Bloods Lake, hikers can take a well-managed trail. Although a bit steep, you'll have access to a beautiful alpine lake, around which you'll see many fall colors. The entire hike is just under five miles.
Iron Mountain Trail
This 2.3-mile hike might not be the longest, but it's moderately steep—so be prepared. It begins at the top of Iron Mountain Court and continues over 800 feet in elevation. Once you've reached the peak, you'll be in awe of the stunning autumnal views of the Wasatch. From the top, you can see all of Park City and Park City Mountain. It's important to note that parking for this hike is in a residential area and is quite limited. The early bird catches the worm.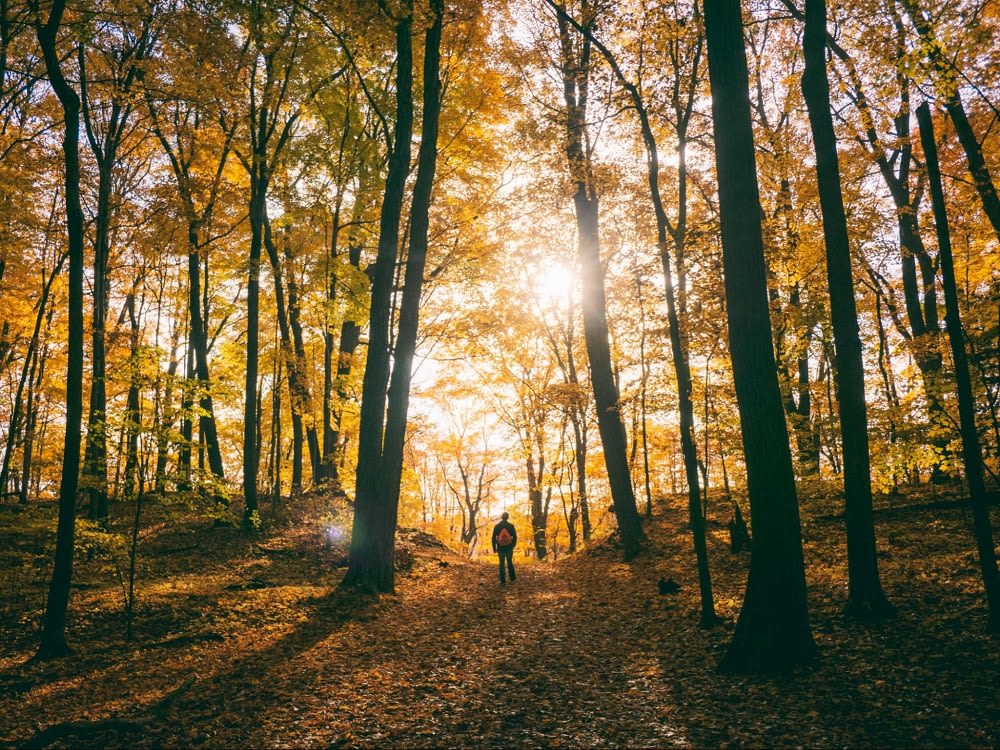 Jenni's Trail
If you ski Park City Mountain, you might know Jenni's Trail as your favorite moderate ski slope. However, it's also a very popular hiking trail during the warmer months. Jenni's Trail is a well-maintained 3.3-mile out-and-back trail and is excellent for hikers of all levels. Parking for this hike is conveniently located at the base of the resort. Notice the Quaking Aspens, and keep your eyes peeled for deer sightings.
Rob's Trail
Rob's Trail is known as a "quintessential mountain town hike" and isn't one to be missed. The inclines are long and gradual, which makes for a consistent climb. You'll wander through forests of pine trees and aspens, which make for shady areas to stop and rest. At about the second mile, you'll choose between several connecting trails, like Mid-Mountain and Ambush. There's a section of trail that's only meant for mountain biking, so pay attention to the signage as you continue your climb. Eventually, you'll come to a fantastic view of Park City Mountain and all of its hillside foliage. Another thing to note on this hike is the memorial bench at mile 1.8, which is dedicated to the acclaimed skier, Sam Jackenthal.


Over Easy Trail (Summit Park)
For a shorter hike, head to the Over Easy Trail. Located between Park City and Salt Lake City, the Over Easy Trail is a quick, 2.5-mile walk without many surprises. It's pretty steep, though, so be prepared for some elevation. As you walk, you'll see pines, larches, cottonwoods, and aspens, as well as unobstructed views of Parley's Canyon. It's a quick way to appreciate the changing of the seasons in Utah.
Interested in Park City homes for sale?
If you're interested in exploring Park City real estate, contact Lisa Ninow of Stone Edge Real Estate for local expertise, up-to-date market insights, and the best luxury listings Park City has to offer.