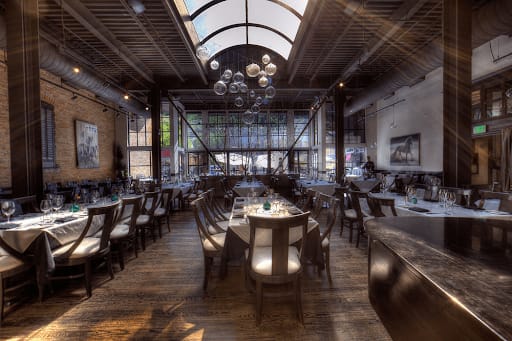 Image credit: Riverhorse on Main website


Riverhorse on Main
With a patio overlooking Park City's historic Main Street, you're sure to love Riverhorse on Main. This high-end restaurant has not one, but two outdoor spaces – the best being the aforementioned patio, where you can view the buzz and beauty of Main Street from up high. Take in Main Street's historic Utah atmosphere as you enjoy tasty American cuisine. Guests love Riverhorse's ambiance, with live music from local musicians often being played in the back.
Some menu favorites at Riverhorse are the macadamia-crusted Alaskan halibut, Durham Ranch Buffalo short rib, and surf-and-turf tower appetizer. You can also enjoy an excellent drinks menu - they offer a wide array of wines, beers, ciders, and specialty cocktails, such as silver mine mules and tom cat sours. Riverhorse's menu is constantly evolving each season, incorporating the creativity of their chefs with the freshest, most in-season ingredients.
With its decades-long history, Riverhorse on Main has won multiple awards for its food - for 17 years now, it's been recognized as a top travel spot by Forbes Magazine. Due to its acclaim, delicious meals, and lovely ambiance, it's understandable that you should expect to book a reservation in advance! Riverhorse is perfect if you're looking for a memorable, award-winning meal while exploring all that Park City's historic Main Street has to offer.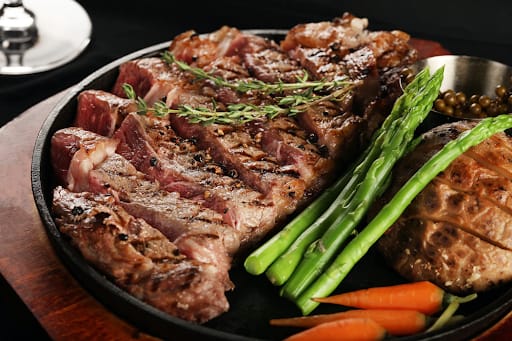 Ruth's Chris Steak House
Next time you're near the Park City Hotel, head to Ruth's Chris Steak House for delicious steak and stunning golf course views from the patio. This upscale chain is known for their perfectly cooked steak, as well as their lobster and stuffed chicken breast. Made with only USDA prime steaks, some favorites include their filet minion, New York strip, ribeye, and more. Cooked to perfection in their 1800-degree oven, your sizzling meal arrives at your table on a heated plate, meaning you'll always get a hot, perfectly cooked, and delicious steak when dining at Ruth's Chris Steak House.
Compliment your meal with light sides such as salads or shrimp, and if you want dessert, you're in luck! The steakhouse has all the classics - choose from cheesecake, chocolate explosion, creme brulee, and more. They also offer world-class wines and handcrafted cocktails, such as raspberry cosmos, blueberry mojitos, and blackberry sidecars. After an afternoon spent at the Park City Golf Club, be sure to check out Ruth's Chris Steak House for an outdoor eatery with breathtaking views and steak cooked just the way you like it.


High West Distillery & Saloon
Even in winter weather, you'll be toasty and warm on the heated patio of the High West Distillery. While their distillery area is closed to tours due to the COVID-19 pandemic, their restaurant is still open to guests, dishing out Western American staples such as mac and cheese, burgers, chicken wings, and chicken schnitzel. Keep in mind that due to Utah's unique liquor laws, you must ensure everyone in your group is 21 or older - the High West Distillery is technically classed as a bar, not a restaurant, despite its food service.
Which brings us to what High West Distillery is really known for – their award-winning whiskeys. Take advantage of their flights and sample a variety of their must-try bourbon and ryes. At their amazing bar, you can order all of your favorite drinks as well as unique cocktails like bourbon cocktails, spiked lemonade, and more. If you're looking for an award-winning bar with tasty vittles to go with it, then High West Distillery & Saloon's patio is just the spot for you.


Cafe Terigo
Image credit: Cafe Terigo website
You'll love to dine outdoors at Cafe Terigo's tree-shaded patio, glowing with fairy lights and heat lamps. Located on Park City's historic Main Street, this modern Italian cafe's patio sits away from the sidewalks, allowing diners to enjoy the view without the noise and bustle. Choose from their delectable pasta — the bolognese pappardelle is a favorite — or a meat entree like the grilled lamb chops. Lighter options like their shrimp and corn salad or house-made fries are also all delicious.
If you're a wine connoisseur, you'll love Cafe Terigo's expansive wine menu, with over 70 options to pair with your meal. They have a huge selection of white, red, and sparkling wines, and even a mulled wine to pick from. They offer beer and cocktails too, with twists on the classics like aperol rosé spritz, rosemary lemon martinis, and more. If you're exploring Park City's historic Main Street, Cafe Terigo and a glass of wine is a wonderful way to end your evening.


Sammy's Bistro
Sammy's Bistro is an award-winning restaurant that has something for everyone. Known for being consistently fresh, their delicious menu has even appeared on the hit TV show, "Diners, Drive-Ins, and Dives." Serving lunch and dinner every day as well as weekend brunch, some of Sammy's signature dishes include their shrimp scampi, steak frites, spicy veggie burger, and more. There's lots of tasty fare, including many vegetarian options and a few vegan and gluten-free dishes. They even have a kids' menu, making this a spot that the entire family will love.
Sammy's Bistro also has a drinks menu, offering a wide range of craft beers and soft beverages like soda, coffee, juice, and lemonade. Former patrons rave online about Sammy's amazing service, as well as the great value of their high-quality, well-prepared food. Whether it's a family dinner or Sunday brunch, enjoy your meal out on their outdoor seating area - Sammy's Bistro is the place to go for high-quality casual dining on Park City's historic Main Street.


The Bridge Cafe and Grill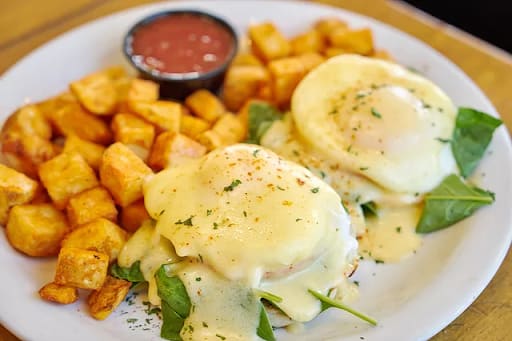 Image credit: The Bridge Cafe and Grill website
With a cute, umbrella-shaded outdoor seating area, you'll be sure to love your outdoor dining experience at The Bridge Cafe and Grill. This cafe serves up delicious local cuisine with a Brazilian twist from its unique and convenient location, right next to the Town Lift at the bottom of Main Street. With the lift nearby, you can ski down the slope to this cafe's front door and take the lift back up the mountain after you're done. You'll get a truly spectacular view of Park City's outdoor scenery and also have easy access to and from Main Street.
In addition to its prime location, The Bridge offers award-winning food that's resulted in it being named one of the top 10 breakfast restaurants in Park City. The cafe is renowned for its can't-miss, all-day breakfast, serving up breakfast favorites with an exciting twist - try the Brazilian style omelet, croissant sandwich, or brioche breakfast. They also have some lunch favorites, like their brazuca steak sandwich, au jus burger, and shrimp tacos. Vegetarians will love this spot for their wide array of veggie options, such as their vegan fajitas.
Whether you're stopping in for a meal after a ski session — or are on your way to some Main Street retail therapy — The Bridge Cafe and Grill is a perfect spot. With their high-quality breakfast and lunch food all day long and their gorgeous outdoor seating area, you're sure to love dining here while in Park City, Utah.


Want More Park City Outdoors?
With its stunning views of the Wasatch Mountains, snow-covered ski slopes, and lush golf greens, Park City is a special place to be in. Equally special are its restaurants, of which the ones above are only a fraction! If you're looking for Park City real estate, contact the knowledgeable professionals at Stone Edge Real Estate. Their real estate team will expertly guide you to your new Utah home.